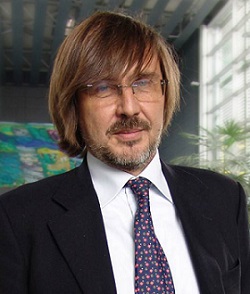 Giovanni Scapagnini
Associate Professor of Clinical Biochemistry and Clinical Molecular Biology, at the University of Molise, Italy, Prof Scapagnini is an internationally recognised expert in biological ageing mechanisms, specialising in brain ageing, and in functional nutrition. He is vice-president, founding member and member of the board of directors of the Italian Nutraceutical Society (SINUT), author of more than 100 publications in international peer reviewed scientific journals and organiser of many international congresses involved with the biological mechanisms of ageing.
What is less well-known about him is that early in his career he worked for four years at the Institute of Human Virology in Baltimore, Maryland, founded by the famous Dr Robert Gallo, with whom Scapagnini was involved in the testing of polyphenols extracted from green tea. He is an acknowledged expert on polyphenols and other dietary molecules, some of which do not act quite as we think they do. In a 2002 paper, Prof Scapagnini and colleagues outlined the case for the possible prevention of what appears to be the coming worldwide epidemic of Alzheimer's and dementia through the use of nutritionallyderived antioxidants (J Nutr Biochem 2002). In an Italian interview, he was introduced with the words: "Giovanni Scapagnini: for him polyphenols have no secrets".
Professor Scapagnini, our keynote speaker at the conference on 18 March, will present "Nutritional signals that modulate ageing and healthspan: a complex regulatory network for nutrigenomics research".
Book your place
The IHCAN Conferences in collaboration with BANT are incredibly popular, so much so that all of last year's sold out months in advance, so we recommend you guarantee your place by booking as soon as you can.