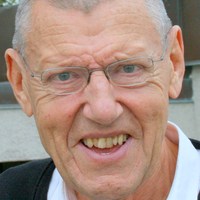 Professor Stig Bengmark
After a long successful career as a surgeon, professor and clinic director, Professor Stig Bengmark has become an acknowledged world authority on chronic inflammation and chronic diseases, which he says the facts show are a result of dysbiosis. Stig received his MD and PhD in medicine from Lund University in Sweden and has held the position of Honorary Visiting Professor at University College London since 1999.
He is a founding member of the editorial board of HepatoBiliary Surgery and Nutrition (HBSN), who describe him as "a living legend" and say he was "one of the three greatest European surgeons in recent history who were nicknamed the 'three Bs' (surnames start with B) – the Bach, Beethoven, and Brahms of hepatic surgery." HBSN editor Prof Yilei Mao adds, "Stig has always had unlimited, unexpected, broad-spectrum, bright new ideas based on his unique observations that ordinary researchers would have ignored."
Prof Bengmark's list of academic publications is almost 1,000-strong. His long career at the top of the field of liver and gall bladder specialism has given him unique insights into chronic disease and inflammation. His investigations have led him to original publications on, for example, the effect of Lactobacillus pretreatment on the function of macrophages in acute liver injury, and to a review article on the antioxidant and anti-inflammatory properties of turmeric ("Curcumin, an atoxic antioxidant and natural NFκB, Cyclooxygenase-2, Lipooxygenase, and inducible Nitric Oxide Synthase inhibitor: a shield against acute and chronic diseases"). He has addressed the inflammatory effect of endotoxins with "Integrative medicine and human health – the role of pre-, pro- and synbiotics" (Clinical and Translational Medicine, December 2012).
Stig is one of medicine's best-kept secrets. The paper that brought him to our attention is an inspirational must-read, whether you can get one of the few remaining tickets to see him present in person or not. Free to access online, and an easy read, the paper is "Obesity, the deadly quartet and the contribution of the neglected daily organ rest – a new dimension of un-health and its prevention" (online at https://www.ncbi.nlm.nih.gov/pmc/articles/PMC4526765). In it he deals with food habits – including insufficient "organ rest" between meals – as the real threat to the health of the Western world. He also warns that the early-warning signs of impeding disease are often ignored in orthodox treatment circles.
"The dysbiosis-induced low-grade inflammation and malfunctioning immune system induces early a series of various, seemingly benign, manifestations in the body, for which the sufferers often seek medical advice at their local general practitioner (GP, family doctor), and often receive symptomatic treatment. However, these minor, but irritating, symptoms should be taken seriously, as they are all signs of ongoing low grade inflammation, which with time might bring serious consequences – severe diseases and with time death."
He also points up the huge differences between modern Western-style eating and a more Paleo regime, and breaks this down in terms of the liver and bile: long-chain fatty acids, significantly higher in a Western diet, enter the body through the thoracic duct – one of two "back door short-cuts" into the body and remain in circulation for hours before finally being metabolised by the liver.
Book your place
The IHCAN Conferences in collaboration with BANT are incredibly popular, so much so that all of last year's sold out months in advance, so we recommend you guarantee your place by booking as soon as you can.