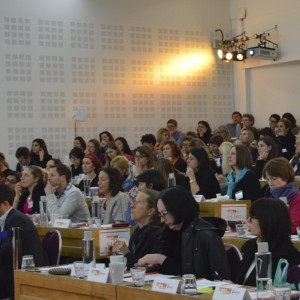 We have now extended our capacity for the 'Meeting the Microbiome' CAM Conference taking place on 12th September at the Cavendish Conference Centre, London. There are only 10 places remaining, so make sure you book today to secure your place and avoid disappointment.
Check out our speakers' synopses below, which include topics such as the influence of the microbiome on zonulin, leaky gut, as well as reactions to gluten and other protein:
Dr Alessio Fasano
World-renowned pediatric gastroenterologist, research scientist and entrepreneur Dr Alessio Fasano will be the keynote speaker at the 'Meeting the Microbiome' event.
Dr Fasano is division chief of pediatric gastroenterology and nutrition, director of the mucosal immunology and biology research centre at MGHfC, and is a visiting professor of pediatrics at Harvard Medical School. He is also the author of Gluten Freedom, which focuses on coeliac disease, gluten-related disorders and the gluten-free diet.
Dr Fasano will be discussing how nutrition influences gut microbiome and metabolomic, concentrating on the close bidirectional interaction between the gut microbiome and our immune system. There will be discussions surrounding microorganisms which have been held responsible for the "epidemic" of chronic inflammatory diseases (CID). Dr Fasano will reference the variables affecting the ecosystem of the gut and the research surrounding the re-shaping of gut microbiota through dietary manipulation.
Tim Spector
Joining Dr Alessio Fasano will be Tim Spector, a professor of genetic epidemiology at Kings College in London, and director of the department of twin research and genetic epidemiology at St Thomas' Hospital.
He founded the UK Twins Registry of 11,000 twins in 1993, which is one of the largest collections of genotype and phenotype information on twins worldwide. Prof Tim Spector has also written several original articles on the heritability of a wide range of diseases and traits, including back pain, acne, inflammation, obesity, memory, musical ability and sexuality.
Professor Spector will be discussing the human gut microbiome and its association with obesity. He will be focusing on the global obesity crisis and how all of our bodies respond differently to the same foods. Professor Spector will also be talking about the permanent residents in our guts: the trillions of microbes, bacteria and fungi whose job it is to digest our food and keep us alive and healthy.
Ben Brown
Also speaking is Ben Brown, a naturopath, science writer and speaker. He teaches nutritional medicine, speaks internationally and regularly contributes to industry magazines and peer reviewed scientific journals.
Ben also works in natural product research and development, and has previously maintained a private practice. Ben will be discussing metabolic endotoxemia: clinical consequences and nutritional therapy. He will focus on interesting topical themes including leaky gut, the gut-brain connection, chronic diseases – such as CVD, obesity and diabetes, as well as dietary management and nutritional supplements – such as pre and probiotics.
Not only will delegates have the opportunity to gain a full day's education, receiving the latest research and knowledge from these expert speakers, but also the chance to network with over 200 peers and over 15 exhibitors.
Ticket prices start from £84, which includes a delegate folder on arrival, a free goody bag, healthy refreshments and a gluten-free buffet. The ticket also includes audio and video presentation downloads available after the event.
There are also substantial discounts for members of associations or students.
To book your place for the September CAM Conference, do not hesitate to call the team on 01279 810080, or head to the website www.ihcanconferences.co.uk/book.