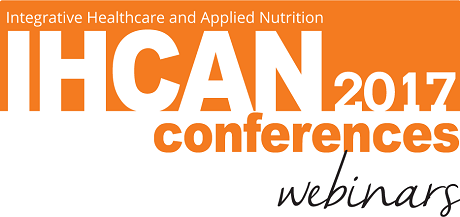 Our series of hour-long webinars are completely free to attend. Covering a broad range of subjects, simply use the registration links below to register. 
Once registered, you will receive three reminder emails – one a week before the webinar, one a day before and one on the day of the webinar. Each webinar is recorded – you will be sent a link to the recording approximately 48 hours after the event.
Please note: The IHCAN Conferences Webinars are provided for professional education and debate and is not intended to be used by non-medically qualified individuals as a substitute for, or basis of, medical treatment.
Presented by  Philip Rouchotas, MSc, ND
A large number of common health concerns fall under the umbrella term autoimmune disease, and their prevalence is on the rise across all ages of our population. Some common ailments sharing autoimmunity as their cause include arthritis, asthma, allergy, inflammatory bowel disease, skin ailments such as acne, eczema, and psoriasis, and even chronic headache. An anti-inflammatory diet is key in managing these common concerns, and often delivers large and important magnitudes of benefit. A selection of natural health products are also key in quelling inflammation and reestablishing immunological tolerance to common substances in our environment that drive autoimmunity.
Click here or use the button below to register for free:
About Philip Rouchotas
Philip and his wife, Dr Heidi Fritz, MA, ND, practice at the Bolton Naturopathic Clinic in Bolton, Ontario. Philip's areas of clinical focus include mental health, autoimmune disease, and metabolic syndrome. He also serves as an Associate Professor at the Canadian College of Naturopathic Medicine (CCNM), responsible for delivery of the second year curriculum in Clinical Nutrition. Philip graduated from CCNM in 2004, preceded by an honours undergraduate degree and Masters of Science degree, both in Nutritional Sciences from the University of Guelph.